Located at the corner of 107 Pandora Street West and the corner of Day Street in Transcona, Winnipeg, Manitoba, this mural commemorates the former owner of the gas station and car wash. Currently, a new Tim Horton's and Petro Canada and Car Wash attract many people.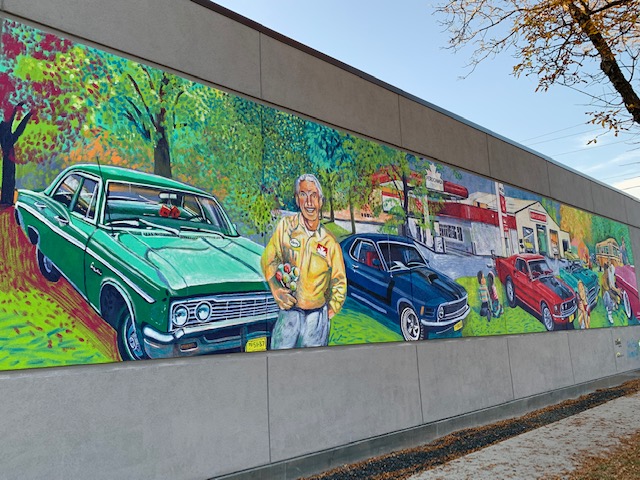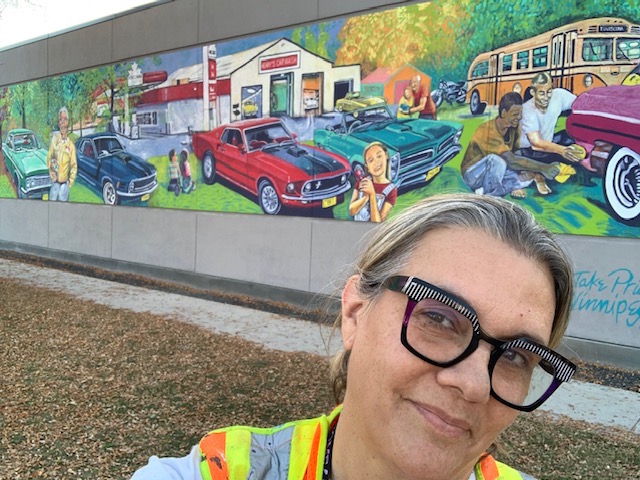 Henry's Car Wash has been a social hub in the Transcona community, where people went to clean their vehicles, purchase fuel and groceries and most importantly, stay connected. Ed (Henry) Enns purchased 107 Pandora St West as an opportunity for his son and was the original owner of the car wash. Henry Enns quit his job at Winnipeg Electric to purchase the business in 1965. At that time, it was an automatic car wash with a couple of self-serve bays. Over the years, it changed to have all self-serve bays and added propane and diesel fuel pumps. The business operated as a Gulf station until 1985, when Petro Canada acquired Gulf Canada Ltd.
Henry, along with his wife Erna and their seven children, grew the business into what the residents of Transcona fondly remember. This family arrangement allowed some of the children to work alongside their parents. It also employed a few local CN workers and Transcona students. The most important person in the operation was Henry. He was always there with a big smile on his face and was welcoming and friendly to everyone. He would visit with the patrons, admire their vehicles, ask how their days were and share a few laughs. He genuinely cared about his customers and always wanted them to feel good. He loved when kids would visit and always had suckers waiting for them. An example of Henry's caring personality is the story of a family whose vehicle broke down just before Christmas; Henry would not leave until the vehicle was repaired and he knew they could all get home for Christmas. The family was overwhelmingly grateful to him. Although the Enns family sold the service station, the memories remain for those who knew Henry and helped to support the business for over 60 years. Henry passed away in 2016 and spent 4 years serving in the military during World War II. Today there is a new car wash on the site, gas station and a Tim Horton's restaurant. While Henry may be gone, Henry's Car Wash will not be forgotten. Please take the time to welcome our new owners and give them a big Transcona smile.