This mural is my most recent and it is a 1250 square foot mural located at 248 River Avenue, Winnipeg on the topic of Vietnamese refugees.  It has been well documented through CBC TV and the Winnipeg Free Press.  Funding came from Take Pride Winnipeg, Petersen and King, Councillor Jenny Gerbasi and Osborne Village BIZ.  Thanks very much for making it possible!

This is my drawing or proposal, rendered in watercolour and pencil crayon.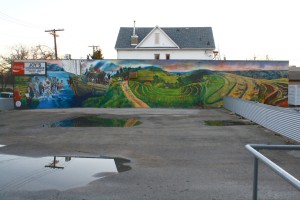 This mural was completed October 2015 and received the Mural of the Year Award.  It represents the tumultuous journey of Tam, a Vietnamese Refugee who came to Canada in the 1970s and has helped several others come to Canada since.  He established the organization called CHKV, Canadians Helping Kids in Vietnam and it is their 40th Anniversary.  The left hand side shows refugees making the 5 -day journey, running from a war-torn country, eating little rations and arriving on the beach.  The media parallels this trek to the experience of many Syrian Refugees.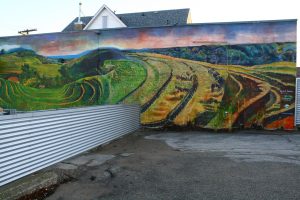 http://www.cbc.ca/news/canada/manitoba/winnipeg-tailor-s-flight-from-vietnam-compared-to-syrian-migration-1.3229377